Interior Architecture Firm The Childs Dreyfus Group (CDG) Introduces Vice President Of Interior Architect/Design And Vice President Of Operations/Business Development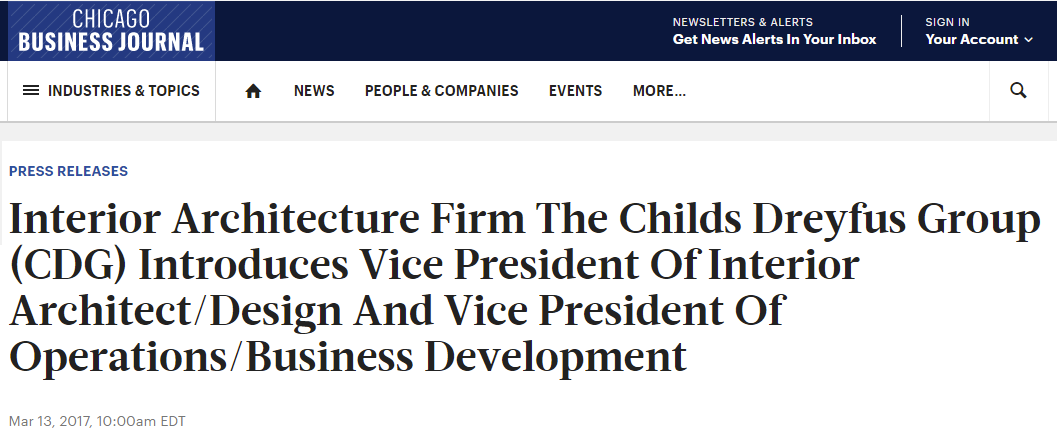 CHICAGO, March 13, 2017 /PRNewswire/ — The Childs Dreyfus Group, an interior architecture/design firm located in Chicago, Illinois, had a great 2016 and is positioned perfectly to see additional growth and success in 2017. The growth created an opportunity to enhance the leadership, talent and culture, specifically, with a new Vice President of Interior Architect/Design and Vice President of Operations/Business Development.
Christina Bidegain joined the leadership team as Vice President of Operations in mid-2016, and brings a mix of leadership, inspiration, operational experience, and design background to the position. She will work together with the rest of the leadership team to drive the company's growth and enhance customer service, business development and efficiency.
The firm's new Interior Architect, Amir Al Abosy, joined The Childs Dreyfus Group in late 2016, but he has been in the industry since 1990. Over the past several decades, he has occupied high-level positions in architectural firms all around the world, including New Zealand, Jordan, Iraq, and the United States. He is well known within the industry and belongs to various professional organizations, including the American Institute of Architects. Amir is also a LEED accredited professional and has been certified by the National Council of Architectural Registration Boards. He brings a diverse and impressive skillset to The Childs Dreyfus Group that will help the firm surpass all of their clients' expectations."
"In total, we have hired six highly qualified, LEED and REVIT certified new team members who we feel have greatly improved our already impressive staff as a whole," says The Childs Dreyfus Group's CEO, Rene Pabon. "We have experienced rapid growth over the last 12 months, and are excited to bring these team members aboard to help us continue to grow our business and provide exceptional service to our clients."